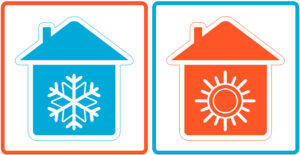 We think heat pumps are fantastic choices for home comfort, and we wish more people would look into them as an option for central heating and cooling around the year.
But heat pumps do have a few specific problems that can crop up during their service lives. One is when a heat pump becomes stuck in one mode or the other, such as a heat pump that won't change over to cooling mode and will only provide heat or room temperature air.
If you've currently got a heat pump that staunchly refuses to cool your house, you may need to call our technicians for heat pump service in Damascus, MD. Below we'll look at some possible causes of the "no-cool" heat pump and what can be done to resolve the problem.
A broken reversing valve
This is one of the most common causes of a heat pump that won't switch between modes. The reversing valve is the component in a heat pump that allows it to change between working as a cooling system and a heating system: it controls which direction refrigerant moves when it leaves the compressor, and this is what makes the difference between whether the heat pump is moving heat into your home (heating mode) or out of it (cooling mode).
The reversing valve can become stuck so that no matter what signals it receives from the thermostat, it will only move refrigerant one direction. Fortunately, this is not a difficult problem for technicians to solve. They can replace the reversing valve and get the heat pump back to work.
Failed thermostat contacts
A thermostat malfunction is often behind strange heat pump behavior. The thermostat controls turning the compressor and blower fan on and off, and it also sends the signal to the reversing valve when it's time to switch between heating and cooling. A thermostat can lose its connection to the reversing valve while still operating the compressor and fan. Experts can take care of restoring the thermostat's connection.
Miscalibrated thermostat
Another possible thermostat issue is if the thermostat is reading incorrect temperatures in the house so it doesn't know to change the heat pump's mode. If the thermostat thinks the house is hotter than it is, it won't even turn the compressor on to start the cooling cycle. Our technicians can easily recalibrate a thermostat to restore regular controls.
Clogged air filter
However, before calling us to investigate any of the above, please take the time to check the air filter for the heat pump. A clogged air filter can cause the heat pump to struggle to handle basic cooling, and people often forget to do regular filter changes. A clean filter needs to be put in every one to three months, so if your heat pump is overdue for the change, this might be why it won't cool the house.
Contact B&B Air Conditioning & Heating Service whenever you need help with your heat pump or air conditioner. We are always there when you need us.