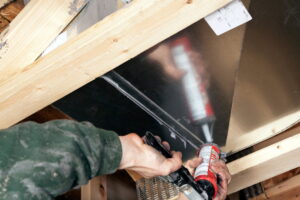 No matter how well-built or durable your ductwork may be, leaks still happen. This is because HVAC systems are highly complex, and one small issue can affect the entire system. Moreover, although people often underestimate the negative effects of leaking ducts, they can actually wreak havoc on your home. Here is a closer look at how leaking ducts can cause many problems for your home.
Problems With Leak Ducts
While many people view leaky ducts as a minor issue, they can lead to major issues, such as the following:
Poor Air Quality: Poor air quality is one of the top issues caused by leaky ducts. This is because leaky ductwork can cause back drafting, which allows pollen and other airborne allergens into the home. Over time, this can make indoor air quality very poor.
Increased Heating and Cooling Costs: Another issue that is commonly caused by leaky ductwork is increased heating and cooling costs. In fact, it could result in an up to 30% increase in your heating and cooling bills.
More Wear and Tear: Additionally, leaky ductwork can increase the level of wear and tear on your AC unit or furnace. This is because malfunctioning ductwork can put a strain on your furnace and AC unit.
Uneven Temperatures: Leaky ducts can cause your home to experience uneven temperatures. This is because the cracks and leaks can allow the heat or cool air to escape, rather than being expelled from the nearest vent, as intended.
You Need Professionals for Duct Sealing
While it may seem tempting to go the DIY route in terms of duct sealing, it is a task best left to the professionals. This is because it is the only way to ensure you reap the benefits of having well-made ductwork in your home. Luckily, hiring a professional company can provide your home with the following benefits:
Boosted Safety: One of the top benefits of investing in professional duct sealing services is that it can help boost the level of safety of your home. This is because gas appliances, such as dryers, furnaces, etc., tend to use combustible gases, and leaky ductwork may cause back drafting, which can cause the gasses to be drawn back into your living space.
Boost Comfort: Additionally, investing in professional duct sealing services can help boost your level of comfort. Rather than dealing with rooms that are too hot or cold, great ductwork helps ensure that indoor temperatures are properly moderated.
Making Your Home More Sustainable: Lastly, investing in professional duct sealing services can help make your home more sustainable. This is because many homes use energy that is made by burning fossil fuels. Having your ductwork serviced by professionals can help reduce the amount of energy you use, making your home more sustainable overall.
Need Ductwork Services in Rockville, MD?
Overall, if you are in need of duct services in Rockville, MD, you've come to the perfect place. Our team of professionals is fast, courteous, and stops at nothing to ensure each and every customer is fully satisfied.
Call B&B Air Conditioning & Heating Service. We are always there when you need us.