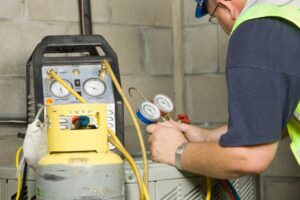 The simple answer to this question is "Hopefully never."
Confused? Don't worry—many people aren't used to how refrigerant works in their homes' air conditioning systems. We're glad to shed light on this to help you better understand how your AC runs. Knowing just a bit about AC refrigerants can help you know when you need to call us for professional repairs for your air conditioning in Annapolis, MD.
We're going to divide the answer to the original question into two parts: Why you shouldn't need to put more refrigerant in your AC and Why you might need more refrigerant anyway.