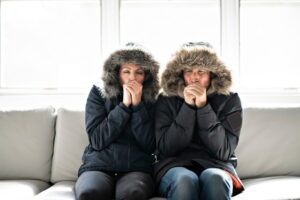 As the chilly embrace of winter approaches, the efficiency of your heat pump will take center stage. If the question, "Why isn't my heat pump switching to heating mode?" is on your mind, you're not alone. This is a problem that people often encounter with their heat pumps, and it frequently requires that they call for heat pump repair in Fairfax, VA. 
Our team at B&B Air Conditioning & Heating Service recognizes the critical role of a well-functioning heat pump, particularly in our area, where winter temperatures demand reliable heating solutions. We're going to look into why you've got a heat pump that won't do the heating part of its job and what you can do about it.
Understanding the Basics
Before we delve into the potential reasons behind your heat pump's hesitation to switch to heating mode, let's revisit the fundamentals of these systems. Heat pumps work by transferring heat between the indoors and outdoors, providing both cooling and heating for your home. During colder months, the heat pump extracts warmth from the outdoor air and channels it indoors. If you're facing issues with the heating mode, prompt attention is essential.
Common Culprits
Numerous factors might contribute to your heat pump's reluctance to switch to heating mode. A frequent offender is a malfunctioning thermostat. Double-check that your thermostat is correctly set to the heating mode and adjusted to your desired temperature. If the thermostat is functioning properly, the next step is to examine the air filter. A clogged or dirty filter can hinder airflow, impacting the heat pump's overall efficiency.
Perhaps the most common malfunction causing this problem is a broken reversing valve. This small yet crucial component is responsible for directing the flow of refrigerant, determining whether the heat pump provides warmth or cooling to your living space. When afflicted by a faulty reversing valve, the heat pump can find itself stuck in one mode—typically either heating or cooling. You can't do anything to fix a busted reversing valve on your own. This is a job that requires professionals. Our technicians can either repair the broken reversing valve or replace it.
Regular Maintenance Matters
Prevention is key to ensuring the longevity and optimal performance of your heat pump. Scheduling routine maintenance with B&B can help identify potential issues before they escalate. Our comprehensive maintenance services include meticulous inspections, thorough cleaning, and performance assessments, ensuring your heat pump functions seamlessly throughout the year.
Professional Diagnosis and Repair
If your heat pump continues to resist the shift to heating mode despite your best efforts, it's time to seek professional help. The skilled technicians at B&B can conduct a meticulous diagnosis to pinpoint the root cause of the issue. Whether it's a faulty component, an electrical problem, or refrigerant issues, we possess the expertise to provide effective solutions.
Rely on B&B Air Conditioning & Heating Service when you have heat pump needs. We are always there when you need us.