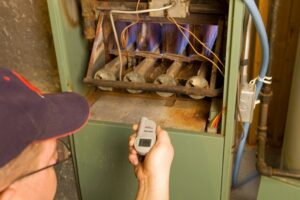 The last months of winter sometimes bring the coldest weather, and even after spring begins a snap blizzard can smash into us. It's asking a lot of your heating system during this time, because it has already gone through months of steady work warming the house, accumulating wear and tear. Now it has to face some of the starkest weather of the year—and it might be exhausted!
In other words, this is the time of year when you're most likely to need to call for heating repairs in Rockville, MD from our team.
First, the Good News
Did you arrange for professional heating maintenance in the fall? Our maintenance program is designed to help your heating system get through the winter with the fewest number of problems while staying energy efficient. If you remembered to have maintenance done, your heater entered the winter in the best possible shape; even this late in the season, it's probably robust and not at huge risk for a malfunction.
But even the finest maintenance from our technicians cannot guarantee a heating system will avoid all problems. Especially as a heater ages, it's more susceptible to the slings and arrows of outrageous East Coast winters.
Now, What Can Go Wrong
How can the long assault of winter give your heater a hard time in February and March? In many different ways, but we'll focus on three of the more common:
Burnt-out motors: Heat pumps and furnaces rely on motors for basic operation, and even boilers have a motor to run the circulator pump. A motor does more work than any single piece of a heating system because it has parts in rapid motion. Motor burn-out is always a possibility, with older motors at higher risk. You may catch a motor in jeopardy before it burns out if you notice a shrieking sound. Otherwise, a burnt-out motor must be replaced. 
Clogged burners: For gas furnaces and boilers, an accumulation of grime on the burners will make it harder for the gas jets to ignite. This can lead to delayed ignition or a complete failure to ignite, and it can also cause lower heat levels. You can't clean the burners on your own; please leave the job to the professionals.
Short-cycling: This is a symptom of several different problems. You'll notice the heating system turning on and off more frequently. If the heater only stays on for periods of ten minutes or less, then turns back on again a short time later, the system is short-cycling. This puts more strain on the components and will cause bills to skyrocket. If it continues, it can mean the permanent end of the heating system. Let professionals investigate to find the source of the short-cycling, which might be worn-down parts.
No matter your heating woes, you can trust our technicians to help you out. We've been in business for over sixty years, and we deliver efficiency, honesty, and integrity all at a fair price. We're here to help 24 hours a day, 7 days a week.
Call B&B Air Conditioning & Heating Service in Rockville, MD, VA, and Washington, DC. We are always there when you need us.