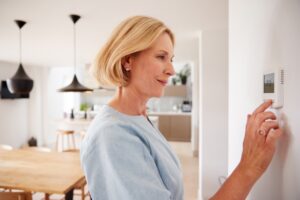 Ideally, heating a home would be as simple as setting the thermostat to your desired temperature and leaving it. But, unfortunately, that's not always how things work out. Instead, there are often times that an HVAC system falls short, which can cause your home to be unevenly heated. So, before seeking heating repair in Annapolis, MD with our team, here is a list of reasons why your heating system isn't evenly heating your home.
Old Furnaces
Although furnaces can last for many years, they do not last forever. As furnaces continue to age, they typically provide less heat to areas that do not have heating vents. If this is the case, and your furnace is over 15 years old, it may be time for a replacement. Alternatively, if it is a newer model, it likely needs to be serviced by a professional.
Poor Airflow
Another reason your home may be heating unevenly is that it has poor airflow. This is an issue that is commonly caused by a dirty air filter, and/or some of the air passages of your HVAC may be blocked. Changing the furnace filter every 1 to 3 months can help eliminate this issue. So, if you notice that some rooms are colder than others, you may want to check the vents in those rooms to make sure they are not clogged.
Ductwork Problems
Moreover, another common reason for an unevenly heated home is that you have problems with your ductwork. For instance, some houses have an innately inefficient ductwork design. It is also possible that there are cracks and leaks in the design, which can prevent the heat from being evenly distributed throughout the house. When this is the case, no matter how many times you service your furnace, your home will continue to have heating problems.
Thermostat Issues
Another common reason your home may be heating unevenly is that there are issues with your thermostat. For instance, you may notice that some rooms of your home are sweltering because the furnace never shuts off. Moreover, you may also notice that the furnace seems to be coming on at all the wrong times. Again, this is often due to some sort of disconnect between the furnace and thermostat or the thermostat reading the wrong temperatures.
Short-Cycling Heater
Short-cycling occurs when your system fails to complete a heating cycle. In these cases, the furnace rapidly shuts on and off, which can cause uneven heating. This is often the result of a technical issue that may obliterate your entire heating system. If your furnace seems to be short-cycling, you should seek professional help immediately.
Need Help with Heating Repair?
Overall, although some of these issues can be easily fixed, many will require the help of a well-trained professional. Therefore, rather than trying to go the DIY route, you will be much better off if you take the time to contact an HVAC expert you can trust.
Call B&B Air Conditioning & Heating Service when you need excellent heating repairs: We are always there when you need us.