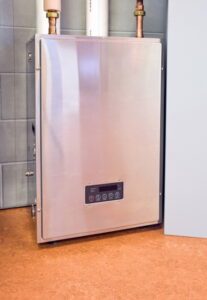 If it's time for you to invest in a new water heater, you may be thinking about going tankless. Many homeowners switch to tankless water heaters because of the endless supply of hot water. However, a tankless hot water heater may not always be the best choice for each family.
You have unique needs, and you deserve a water heater that meets them. That may be either a tank or tankless water heater installation in Fairfax, VA. The good news is, our team can help you decide between the two and make the best choice for your individual meets. Keep reading to learn more about the pros and cons of tankless water heaters so that you can decide if one is right for you.
Benefits of a Tankless Water Heater
The most obvious benefit of a tankless water heater is the endless supply of hot water. You don't have to worry about your water tank running out and waiting for it to refill. When you consider that you have to wash clothes and run your dishwasher, you may be trying to schedule chores and family showers all around each other.
Plus, tankless systems take up much less space. If you currently have a large water tank in your garage or a closet of your home, you can win that space back and use it for storing something else. Tankless water heaters can usually fit inside of a cabinet or on a wall without taking up any floor space. 
In addition to saving on space, you'll also save on energy costs since tankless water heaters are much more efficient. They only have to heat water on demand instead of maintaining a supply of hot water around the clock. Experts estimate that you can save as much as a third on your energy usage for heating water.
Potential Downsides
Tankless water heaters may save you money on your monthly energy bills, but they are also more expensive upfront for the installation. If you don't already have gas lines, the correct venting, or an electrical circuit dedicated to the water heater, each of these things can add to the cost. 
And tankless water heaters are usually a bad idea if you are not connected to a main sewer line. If you have a septic tank, a tankless water heater can lead to it filling up faster. When you have an endless supply of hot water, you may tend to take longer showers or use more water in general. 
You may also face higher maintenance costs since your tankless water heater needs to be flushed out more often than the tank alternative. Mineral buildup happens in both types of systems, but it can have a greater impact in a shorter period of time on a tankless water heater since the lines and unit for your tankless water heater are smaller. 
B&B Air Conditioning & Heating Service. We are always there when you need us. Contact us today to schedule an appointment for your new water heater.