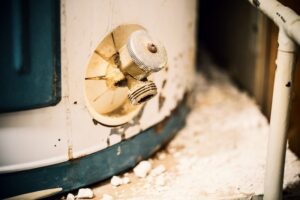 Because you rely on a steady supply of hot water whenever you need it to get through most days, the water heater is one of the most important appliances in your house. It's important to know when the time comes to get a new water heater since you don't want to wait too long and have your current water heater fail on you right when you need it.
It isn't always easy to tell when your water heater is coming to the end of its service life. Homeowners often don't pay too much attention to their water heater as long as they're still getting hot water from their taps. In this post, we'll take a closer look at how to know when it's time for a new water heater installation in Rockville, MD.
Know your water heater's service life expectancy
The best way to tell when you need to start planning for a new water heater is when your current one is older than its estimated service life. The standard gas-powered water heater can last from 10-12 years, and electric water heaters can last for several years longer. We don't recommend trying to push a water heater far past its upper age range even if it still seems to be working fine outwardly. You'll run into rapidly diminishing returns as the system loses its energy efficiency and requires more repairs.
Watch for signs of corrosion
Corrosion is the biggest foe of water heaters although they're designed to resist it for as long as possible. If you see signs of rust or other types of corrosion on your water heater, it usually means it needs to be replaced. Age has caught up with it and its corrosion defenses are starting to fail. Another way to detect corrosion is when you see a reddish-brown discoloration coming from the hot water taps.
Rising heating costs
The water heater accounts for the majority of your heating costs during the year, so when it begins to wear down and drain more power to run, you'll see it reflected on your bills. Repairs can sometimes help with this if you have a younger water heater, but for an older one it's better to invest in a new, more efficient unit.
A drop in hot water volume
Are you not getting as much hot water from your water heater as you once did? If the hot water for showers is running out quicker than before, you may have a dying water heater. 
You want to take advantage of new technology
Maybe nothing is outwardly wrong with your water heater aside from its age, and you're simply interested in making a change to a water heater with improved energy efficiency such as a tankless water heater. There are many recent advances in water heating technology and you might be interested in benefiting from high energy efficiency while helping to benefit the environment. These are great reasons to look into a replacement.
Whatever the reason you're searching for a new water heater, our team can help you make the best choice about the path forward.
Turn to B&B Air Conditioning & Heating Service for your water heater needs. We are always there when you need us.