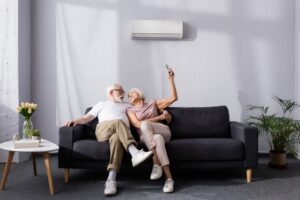 If it's time to install a new air conditioner in your home, first you want to do your research. It may be tempting to install a newer version of your same air conditioner, but the bottom line is technology has changed a lot since that air conditioner was installed in your home. There may be different options out there that fit your family's needs better.
If you were interested in air conditioning installation in Alexandria, VA, our team can help. We can offer an in-home assessment and review your options with you. If you want to get a headstart, you can keep reading to learn more about the different types of air conditioners we install and the pros and cons of each one.
Central AC
More likely than not, you already have a central air conditioner installed in your home. It has been the gold standard for years and most homes have central air conditioners. Replacing your current unit with another central AC can be a smart idea. There are different levels of energy efficiency, and you can upgrade to a highly efficient central air conditioner that stands to save you a lot on your monthly energy bills.
Plus, it's a system that you're already familiar with operating. And if you already have a central air conditioner, replacing it with a newer central air conditioner makes the installation process fairly easy. All of the existing connections should line up and shorten the installation time. If you are upgrading to a different type of air conditioner, our team may need to take some extra time to relocate or change some of the connections to fit your new air conditioner.
Heat Pump
Another option is a heat pump. It's actually very similar to a central air conditioner and it would also make installation very easy if you already have an existing central air conditioner or heat pump. The difference between a heat pump and a central air conditioner is that the heat pump has a reversing valve, allowing it to move effortlessly between heating and cooling. 
When you have a central air conditioner, you also have to have a separate heater for the fall and winter seasons. But with a heat pump, you only have to have one system. Heat pumps also do more to transfer heat away from or into your house rather than using energy to create heat or cooling. Because of this unique operation, heat pumps are highly efficient compared to other options.
Ductless AC
A ductless AC is a little more unique. It uses a heat pump operating system, so it offers both heating and cooling. However, instead of having one large central air conditioner that attaches to ductwork, you have a series of smaller air conditioners installed in each room of your home.
One benefit of this is that 100% of the cool air created by your ductless mini split unit blows directly into the room, making it 100% energy efficient. None of that cool air is getting lost in ductwork before reaching the rooms of your home. 
Because of this, ductless mini split air conditioners can save you up to half on your monthly energy bills compared to a central air conditioner. Of course, you do need to consider that a ductless mini split costs more upfront to install. This can be a negative for many homeowners, but we encourage you to consider the energy savings that'll help balance out this upfront cost. Over the life of your unit, you may actually end up saving more than you would by having a central air conditioner.
B&B Air Conditioning & Heating Service. We are always there when you need us. Schedule an appointment today for AC service.