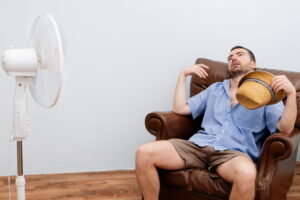 Humidity. It's an ugly word during the summer because it makes hot days worse. Humidity doesn't make the temperature warmer; it makes it harder for the human body to release heat through perspiration, which traps extra heat in the body and makes the temperature feel higher. When relative humidity rises above 60%, the difference in what the temperature feels like can be as much as 8° to 10° higher. 
But you have an air conditioning system in your house to cool you off so you won't have to sweat it out when the temperature rises. Sometimes, the AC may be all you need to enjoy comfort. But there are other times when the humidity level puts the air conditioner to the test—that extra 10° difference means you have to run the AC longer to cool down, and muggy air will still feel unpleasant. Can you do anything about this?
ACs Are Not Specifically Dehumidifiers
First thing you need to know: an air conditioner isn't designed as a dehumidifier. It does some dehumidification as it runs because part of the process of evaporating refrigerant in the indoor coil to cool the air also causes moisture in the air to condense into water along the coil. This will make the cool air blown in your home a bit less humid. However, this is rarely enough to control indoor humidity or make a significant difference in people's comfort.
However, if you start to notice your house feels more humid than normal when the air conditioner is running, this is often an early warning something is wrong with the AC and you'll need HVAC services in Frederick, MD to correct it. The change in humidity could be due to the AC leaking refrigerant, poor air circulation, or leaking ducts. If the air conditioner is new, the trouble may be that the unit installed was too small for the house.
Using a Whole-House Dehumidifier
If you have regular problems with high humidity in your home—and the HVAC system is otherwise working as it should—we recommend you look into having a whole-house dehumidifier installed. These appliances are integrated into the HVAC system so they affect all the air circulated through the air conditioner and into the rooms.
A dehumidifier works on a similar principle to an air conditioner: it uses the evaporation of refrigerant to draw moisture from the air. Unlike an AC, it's designed to handle larger amounts of moisture and can modulate how much it removes. It also doesn't cool the air and works in tandem with the AC to ensure they don't end up making the air in a house too dry or too cold. If you have a dehumidifier installed, you can change the humidity levels with a control called a humidistat (which can also be integrated into a new thermostat for the house). This way you can ensure you have humidity that's balanced and doesn't veer to the extreme of too dry.
We can help you with a whole-house dehumidifier installation or service to repair your HVAC system. Just call us and we'll solve your comfort troubles.
Rely on B&B Air Conditioning & Heating Service: We are always there when you need us.