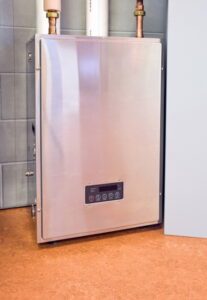 Whether you are taking a shower, cooking food, washing your hands, or taking a hot bath, the water heater you bought ensures you have the necessary hot water. Having to spend so much on energy bills due to a tank-style water heater might not make much sense during the hot summer months.
What if we told you that there is a way to significantly save on your energy bill without having to turn off your home's hot water supply? That is one of the several benefits of switching to tankless water heaters.
Water heaters in Chantilly, VA do not get better than tankless water heaters. These units are also known as on-demand water heaters that heat water only when you need it, reducing wasted heat and energy. Let's discuss the benefits of tankless water heaters so you can understand why it might be better to upgrade to a tankless water heater for your home.
Benefits of Tankless Water Heaters
Here are some of the top advantages of switching from a traditional tank-style heater to a tankless water heater.
1. Energy efficiency
Tankless water heaters are more energy-efficient than their traditional tank-style counterparts. Traditional water heaters rely on a burner or electrical heat source to heat up a reservoir of water stored in the tank. Over time, the water stored in the tank loses its heat, so the heat source must continue to work to constantly maintain the water temperature.
Tankless water heaters only heat the cold water that travels through a pipe into the unit. That means it only uses energy to heat up the water when there's demand for it, saving a significant amount of energy and helping you reduce energy costs.
2. Less use of space
Traditional tank-style water heaters are very bulky due to the water reservoir they need to supply you with a constant stream of hot water. If you do not have a lot of storage space for the water heater, it can become problematic for your home's comfort and convenience.
Tankless water heaters do not need to store any water. Since tankless heaters only heat up water only as it passes through the unit, they have a far more compact design. You can even install a tankless heater on a wall, making them an ideal option for smaller spaces while providing greater convenience.
3. Virtually endless hot water supply
Tank-style water heaters heat a certain amount of water stored inside the tank. Once you use up the hot water stored inside the tank, you will need to wait for the heater to properly warm up the water so that you can get hot water again.
Tankless water heaters eliminate the problem and offer virtually endless hot water. Depending on the model you get, a tankless heater can produce as much as 5 to 7 gallons of hot water each minute. This means your tankless water heater will never run out of hot water.
Are You Looking for a New Water Heater?
Are you looking to install a tankless water heater to reduce your energy bills without compromising on your comfort and convenience? Work with professional plumbers at B&B Air Conditioning & Heating Service to ensure proper water heater installation in your house so you can get the best out of your new water heating solution.
Contact B&B Air Conditioning & Heating Service: We are always there when you need us.