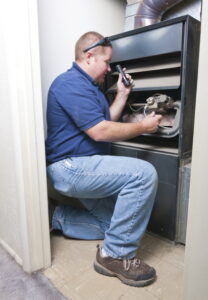 The weather is turning cold, but if you've lived here for at least one previous winter, you know how much colder it's going to get in the following months. So we have a big question for you: have you scheduled your heating maintenance in Rockville, MD yet?
If your answer is, "What's that?", then we have plenty to talk about. Heating maintenance is one of the most important services we offer, and it's one we recommend every customer has done in fall. Each and every fall.
An Annual Inspection and Tune-Up for Your Heating System
Any heating system in Maryland goes through immense amounts of work during the winters. They run almost every day until spring. All that stress on a heater adds up, and it affects the efficiency and effectiveness of the system. Maintenance does the job of alleviating that strain on the system so it doesn't suffer adverse effects.
Maintenance also inspects the heater to locate potential issues that can be corrected before they interfere with the heater or even create safety concerns. Once our technicians are finished with your heater's annual maintenance, it will be in the best possible condition to handle the winter.
How Maintenance Benefits You
The benefits of regular heating maintenance are enormous–they help your house enjoy better comfort, energy efficiency, peace of mind, and health:
Safer operation: You probably use natural gas to heat your house, either with a gas furnace or gas boiler. Any natural gas heater must have an annual inspection to ensure that it isn't developing safety hazards, such as gas line leaks, blocked venting flus, or cracked heat exchangers.
Less costly operation: The accumulation of wear and tear on a heating system will cause it to expend more energy to do its job, and this will make it more expensive to run. On average, a heater will lose 5% of its efficiency each year it misses maintenance. Those drops will add up until you're paying much more than you should for home comfort. Maintenance keeps bills down where they're supposed to be.
Fewer repairs: Inspections catch many repair issues before they turn into actual repairs (our technicians can correct many of them on the spot) and the other steps of maintenance removes the additional strain that leads to future repairs. Maintenance prevents the majority of repairs a heater might otherwise have to deal with.
Reliable performance: You won't have to worry about your heater refusing to turn on when you need it—maintenance makes the chance of a large malfunction extremely low.
Longevity: Lower strain on the heater means it will enjoy a longer life. Age won't have a chance to set in for many years, and the system will easily reach its manufacturer's expected service life, rather than failing many years too early.
Warranty protection: For many heating systems, regular maintenance is necessary to keep the warranty in force.
Call us today to learn more about our maintenance program. We can sign you up and arrange for heating maintenance at your earliest convenience.
Look to B&B Air Conditioning & Heating Service any time of the day or night for HVAC service. We are always there when you need us.