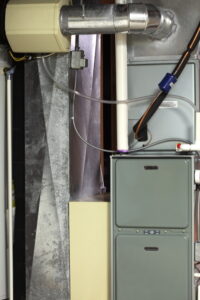 Before the weather gets any colder, ask yourself if you can rely on your aging furnace for another winter. No furnace lasts forever, and eventually, you'll need to schedule a furnace replacement in Rockville, MD with professionals. It's best to have this job done before the cold weather hits because you don't want to get caught with a failed heating system on the coldest night of the year and need to arrange for an emergency replacement. 
How can you tell it's time to replace a furnace? The best way is to call on our heating experts: we have 63 years of experience and can help you decide if the furnace is ready to go or if continuing with repairs will keep it going for a couple more useful years. 
To get you started thinking about replacement, we've got some guidelines below:
The age of the furnace
You can find out how old your furnace is by opening its panel and looking at the information inside. You'll find a manufacture date. How long can a furnace last? A gas furnace that is regularly maintained (each fall) can last from 15 to 20 years, occasionally longer. An electric furnace can sometimes go for 20 to 30 years. Once the furnace has crossed the first threshold of age is when you should pay more attention to other indications that it's starting to fail.
Heating capacity
Or, to put it simply, is the furnace heating up the house as well as it used to? If you find that it's taking the system longer to heat up the house, that you need to raise the thermostat higher to get the temperature you want, or the house is heating unevenly, than the furnace may be in the early stages of failure. Repairs may fix it, but possibly not for long.
Frequent and/or expensive repairs
Speaking of repairs, you don't want to invest more money into repairs than is worth it. That money may be better spent on a new furnace. A good rule of thumb is that you shouldn't pay more than half the cost of a new furnace on a repair for your current furnace. Repairs should not be a yearly affair either, and if you're repairing the furnace twice a year, that's definitely too much.
Rising heating bills
A furnace that's well-maintained should keep its energy efficiency rating for most of its service life, and you'll expect your heating bills to be steady from winter to winter (with fluctuations in energy prices). During the last two years of a furnace's life is when it will start to wear down and lose efficiency, and you'll see a rise in your heating bills. There may be a repair to reverse this, but if the furnace is already in the upper age range, this is a big warning sign that it's time for a replacement.
Let us help you out with making the choice for the future of heating your home. We have factory-trained technicians and we're known for our trustworthy service.
B&B Air Conditioning & Heating Service serves Rockville, MD, VA, and Washington, DC. We are always there when you need us.