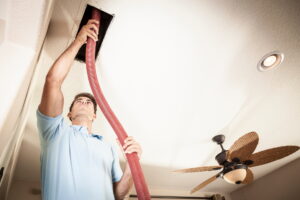 You probably already know that your air conditioner helps to improve indoor air quality. If you want to make your indoor air quality even better, you can invest in a whole house air purifier. But before taking that step, there are other ways to improve your indoor air quality.
One way to improve your indoor air quality is scheduling duct services in Rockville, MD. Your ductwork is a major component to your air conditioner, and keeping those pieces in excellent condition is a great way to reduce the chance of dust getting into your home. You can keep reading to learn more about the benefits of duct cleaning and duct sealing.
Impact of Ductwork
Even though your air conditioner has the important job of cooling air, your ductwork has an equally important job of carrying that air and distributing it throughout your home. If your ductwork is not laid out properly, you may have hot and cold spots in your home, impacting your comfort. When you schedule duct cleaning or duct sealing, be sure to mention problems like this to our team.
Your ductwork is very fragile and it is connected together at seams with adhesive. Over time, these seals can break down, allowing cool air to escape and dust to get into your ductwork. It's also possible for individual pieces of ductwork to get small holes if it takes on any damage.
Ductwork holes can be the size of pinpricks and still have a major impact on your monthly energy bills. Losing just 20% of the cooled air that your AC produces can increase your energy bills by up to 50%. And every time cold air escapes, dust and dirt are making their way into those same holes and broken seals.
That dust and dirt then gets circulated with your clean air and blows back out into your home. You may notice surfaces around your home being dustier than usual. You may also notice an increase in allergy or illness symptoms for yourself or other family members.
Duct Cleaning
When you schedule duct cleaning, our team wipes down the interior surfaces of your ductwork. Duct sealing is the next step in improving your indoor air quality in the long run, but first, we have to eliminate any dirt that's already there. If your system of ductwork is particularly dirty we may also recommend duct sanitization to kill germs and bacteria. 
Duct Sealing
Once your ducts are clean, it's time for duct sealing. This is a great way to invest in your indoor air quality and prevent dust and dirt from mixing in with clean air that is coming from your air conditioner again in the future. Our team can pressurize your network of ducts and use technology to pinpoint where holes are so that we can fix them. If your ductwork is particularly old, we may recommend repairing or replacing larger sections of it.
When you keep dust and dirt out of your air, you also prevent allergens, bacteria, and even viruses from recirculating. These microscopic particles can attach to dust and dirt, recirculating through your home and even multiplying and spreading. You can't guarantee that your indoor air quality is completely free from harmful particles, but you can't take steps to prevent dust and dirt from mixing in with your clean air. 
We recommend that you have your ductwork looked at once per year when you schedule AC maintenance. If our team notices anything worrisome, we can recommend a solution. Staying on top of ductwork problems is a great way to prevent dust and dirt from getting so bad that your entire family stays sick.
B&B Air Conditioning & Heating Service. We are always there when you need us. Schedule an appointment today for duct cleaning and duct sealing.