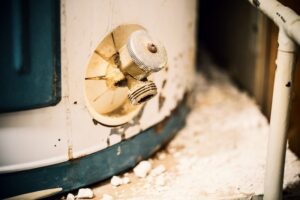 Your water heater is designed to last for a long time with proper care, but it won't last forever. Eventually, you will have to replace your water heater with a newer model. The question is, when? The good news is, there are some signs that will help you know when your water heater is approaching the end of its life.
If you notice any of the signs that we are highlighting below, give her team a call for water heater installation in Rockville, MD. In the meantime, you can keep reading to learn more about how you know when it's time to begin thinking about a new water heater.
Leaks
Your water heater should be completely airtight and free from leaks. If you notice leaks coming from your water heater, don't ignore them. It's easy to think that because it's a water appliance, leaks are inevitable. But that isn't true, and allowing leaks to continue can actually shorten the life of your water heater significantly. 
If you catch leaks early, it's possible that you will be able to repair them instead of making a complete replacement right away. Sometimes water heater leaks are easy to fix. Leaks can come from valves that wear down and needs to be replaced or connections that need to be tightened. However, persistent or frequent leaks can mean that your water heater is simply reaching the end of its life span. 
Signs of Damage
Leaks are a problem because they can lead to rust and corrosion on the inside of your water heater. As water leaks out, oxygen gets into the tank and causes corrosion and an imbalance in pressurization. If you notice rust developing on the outside of your water heater tank, that's a big red flag. There's a chance that the rust is spreading from the inside out. Unfortunately, rust cannot be repaired after it spreads. Once your water heater begins corroding, it's time for a new tank to be installed.
Lack of Heat
Sometimes your water heater simply reaches the end of its life, even though it's otherwise in good condition. If the heating elements are the problem, sometimes they can be replaced. But if your water heater is already older, it may make more sense to just go ahead and replace the entire unit instead of just the heating element. 
There is a chance that hard water has caused a sediment buildup in the bottom of your tank that is impacting how hot your water can get. If this is the case, we can simply flush out your water heater and you should see an improvement. If that doesn't work, your heating element may still be to blame. We can talk to you about your options for repair versus replacement so you can decide which one is right for you.
B&B Air Conditioning & Heating Service. We are always there when you need us. Schedule an appointment today for water heater service.