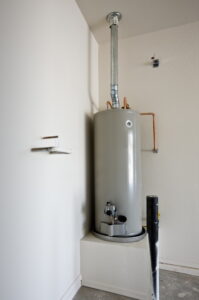 If you're thinking about a new water heater, you don't have to wait for your current system to break down completely in order to replace it. If your water heater is getting up in age, it may make sense to replace the unit sooner so that you can benefit from improved efficiency.
When you have questions about water heater replacement in Rockville, MD, our team is here to help. We are the experts in the area, and we can help you make an educated decision about what type of water heater you want for your home. In fact, you can keep reading to learn more about the benefits of investing in an energy-efficient water heater for your home.
Tank Vs Tankless Water Heaters
Many homeowners think that tankless water heaters are the most efficient options by a long shot when it comes to heating water for your home. But, the bottom line is that water heater technology has expanded a lot in recent years.
Even tank water heaters are more efficient than ever and boast significant energy savings over older models. Tank and tankless water heaters each have their own unique pros and cons. But when it comes to energy efficiency, either one will serve your family well. You can look at the other benefits of each one to decide what's best for your family.
Energy Star Ratings
You may think that a water heater is a water heater. Can a water heater really be that much more efficient? The short answer is, yes. Energy efficiency does vary from system to system. You can probably get a much cheaper model that is not as energy efficient. But, there is always a catch.
You want to consider that a less energy-efficient water heater may save you money upfront, but it will definitely cost you more over the life of the unit by way of energy use. When you spend more upfront on a higher-quality water heater, you are also investing in significantly better energy efficiency. 
The less energy that your water heater has to use to produce hot water for your home, the less you will spend on your monthly energy bills. Plus, your water heater takes on less wear and tear because it does not have to work as hard. And when you consider that a well cared for water heater can easily last for 15 years or longer, the savings can add up quickly.
Peace of Mind
There is also the added bonus of peace of mind. If your water heater is getting up in age, you may be starting to worry about when you will really need to invest in a replacement. Will you come home one day to find out that your water heater has stopped working completely? It's always better to stay ahead of problems than to wait until something major goes wrong to address them.
B&B Air Conditioning & Heating Service. We are always there when you need us. Schedule an appointment today for water heater service.