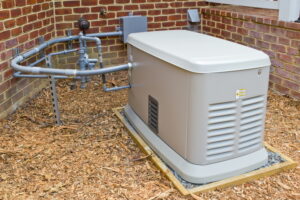 If you live in an area where power outages are common, then you may want to invest in a generator. Your two options are a standby generator or a portable model. Both types of generators have their pros and cons.
Generators also require care and maintenance in order to operate smoothly. In case your unit shuts down, you should have a reliable source for generator repair in Annapolis, MD on your speed dial. This will ensure that your system is fixed quickly so that you can get back to enjoying life.
Standby Generators
Many homeowners use standby generators for their homes. These models are quite big and can produce much more power than a portable generator.
These units are stationary and installed on a permanent basis. They are generally placed outside your home. Standby generators can produce a lot of power and they can run for extended periods of time.
A standard generator can produce anywhere from 7,000 watts to 150,000 watts of power. A single generator can easily power up your entire house and keep things running for regular operations.
These generators run on a variety of fuels but most as set up to use natural gas. Due to their larger size and power generation capacity, they are a suitable option for offices, retail stores, and other commercial spaces as well as homes and apartment complexes.
Do keep in mind that standby generators tend to be more expensive than smaller, portable ones. They are also more costly to run and can be quite noisy.
Standby generators must be installed and periodically checked by a certified professional. With regular maintenance, a standby generator can easily last for tens of thousands of hours in use.
Portable Generators
Portable generators are neither as powerful nor as big as the standby models. They are meant to give you more flexibility as they can be moved around. These units do not need to be installed or fixed in place–this makes them perfect for your camping or RV trip.
A portable generator can produce anywhere from a few hundred watts up to 7,000 watts of power. Some brands offer more powerful units, but they begin to get too big to be moved around comfortably. Portable systems are quite cost-effective and cost less than a standby generator.  
You cannot rely on a portable generator to run everything in your home. Similar to the stationary model, you need to place them outside your home while running.
Keeping them inside can be dangerous as they produce electricity that can start a fire. They also produce carbon monoxide while running and should never be operated in an enclosed space. That means you will need to move them in and out of storage often.
If you are looking to install a generator in your home or commercial space, then get in touch with B&B Air Conditioning & Heating Service. We are a reliable service with years of experience in the market.
Call B&B Air Conditioning & Heating Service. We are always there when you need us.